Literature has evolved in the past 50 years–thank heavens!
No longer shall we be doomed to solely read literature by DWM (dead white me)  some by certain Misters Fitzgerald and Hemingway. Alas, we now have diversity. No offense to the aforementioned DWM, their prose has a time and place, but you can't blame us for wanting to read stories about Africans, actually written by Africans (ehem Joseph Conrad).
And for the record, there was more than one lost generation .
Help us celebrate new literary classics, familiar names and emerging storytellers; men and women (women, yay!) that keep telling stories that are as far from monotonous as wet is, to dry.
We will be giving our 2 cents on a few of these books, as well as the Google Books/Amazon/Good Reads descriptions:
So Long a Letter is a semi-autobiographical novel originally written in French by the Senegalese writer Mariama Bâ. Its theme is the condition of women in Western African society.
Our 2 cents: This is a powerful short book. You might  find yourself reading, gorging on her words, continuously, consuming every sentence, until the end. It is set in Senegal. It is pro-women,  pro-equality and a classic in our eyes.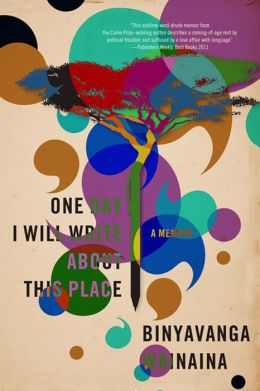 One Day I Will Write About This Place: A Memoir
Binyavanga Wainaina tumbled through his middle-class Kenyan childhod out of kilter with the world around him. This world came to him as a chaos of loud and colourful sounds: the hair dryers at his mother's beauty parlour, black mamba bicycle bells, mechanics in Nairobi, the music of Michael Jackson – all punctuated by the infectious laughter of his brother and sister, Jimmy and Ciru. He could fall in with their patterns, but it would take him a while to carve out his own. In this vivid and compelling debut, Wainaina takes us through his school days, his failed attempt to study in South Africa, a moving family reunion in Uganda, and his travels around Kenya. The landscape in front of him always claims his main attention, but he also evokes the shifting political scene that unsettles his views on family, tribe, and nationhood. Throughout, reading is his refuge and his solace. And when, in 2002, a writing prize comes through, the door is opened for him to pursue the career that perhaps had been beckoning all along. A series of fascinating reporting assignments follows in other African countries. Finally he circles back to a Kenya in the throes of postelection violence and finds he is not the only one questioning the old certainties. Resolutely avoiding stereotype and cliche, Wainaina paints every scene in One Day I Will Write About This Place with a highly distinctive and hugely memorable brush.
2 cents: It's got a whole lot of heart and laughter. Definitely worth reading. 
In South Africa, the controversial topic of botched traditional circumcisions has been very much in the news of late. A Man Who Is Not A Man recounts the personal trauma of a young Xhosa initiate after a rite-of-passage circumcision has gone wrong. With frankness and courage, author Thando Mgqolozana's powerful novel details the pain and lifelong shame that is experienced as a result of not just the physical trauma, but the social ostracism of being labeled 'a failed man.' He decodes the values and mysteries of this deep-seated cultural tradition and calls to account the elders for the disintegrating support systems that allow such tragic outcomes to happen. But it is also through this life-changing experience that his protagonist is forced to find his strength and humanity, and reassess what it really means to be a man.
2 cents: Controversy meets great story telling = reader flipping through pages for hours on end. This is also one of those meaningful stories that can end a painful tradition and pave way to new definitions of masculinity. We are on board!
Half of a Yellow Sun is a novel by the Nigerian author Chimamanda Ngozi Adichie. Published in 2006 by Knopf/Anchor, it tells the story of two sisters, Olanna and Kainene, during the Biafran War.
2 cents: This book is going to be a movie. If you haven't seen the trailer, watch it! Kudos to the author for putting an incredibly relevant war (that was almost never discussed), back in our consciousness and for reminding us of the importance of discussing the past.
The Education Of A British Protected Child
Chinua Achebe's characteristically eloquent and nuanced voice is everywhere present in these seventeen beautifully written pieces. From a vivid portrait of growing up in colonial Nigeria to considerations on the African-American Diaspora, from a glimpse into his extraordinary family life and his thoughts on the potent symbolism of President Obama's elections—this charmingly personal, intellectually disciplined, and steadfastly wise collection is an indispensable addition to the remarkable Achebe oeuvre.
2 cents: This legendary, road-paving author is internationally known for his first novel (published in 1958), Things Fall Apart, but we enjoy Achebe's later works even more. The wisdom that his later works evoke is worth clearing your schedule to read. 
The Secret Lives Of Baba Segi's Wives
To the dismay of her ambitious mother, Bolanle marries into a polygamous family, where she is the fourth wife of a rich, rotund patriarch, Baba Segi. She is a graduate and therefore a great prize, but even graduates must produce children and her husband's persistent bellyache is a sign that things are not as they should be. Bolanle is too educated for the 'white garment conmen' Baba Segi would usually go to for fertility advice, so he takes her to hospital to discover the cause of her barrenness. Weaving the voices of Baba Segi and his four competing wives into a portrait of a clamorous household of twelve, Lola Shoneyin evokes an extraordinary Nigerian family in splashes of vibrant colour.
2 cents: Polygamy happens and often has complicated consequences for everyone involved; this book examines those complicated consequence unfolding. 
Warri, October 1992: Seething with idleness and nonchalance, sick of watching his parents fight, 16-year-old Ewaen is waiting for university to begin, waiting for something to happen. Months later, Ewaen and friends are finally enrolled as freshmen at the University of Benin. Their routine now consists of hanging out in a parking lot trading jibes, chasing girls and sex, and learning to manage the staff strikes and crumbling infrastructure. But Nigerian campuses in the 1990s can be dangerous places, too. Violent confraternities stake territories and stalk for new recruits. An incident of petty crime snowballs into tragedy…
Fine Boys is Eghosa Imasuen's second novel. In the witty, colloquial style fast becoming his trademark, Imasuen presents everyday Nigerian life against the backdrop of the pro-democracy riots of the 1980s and '90s, the lost hopes of June 12th, and the terror of the Abacha years. Indeed Fine Boys is a chronicle of not just a time in Nigeria, but its post-Biafran generation.
2 cents: Fine Boys examines another time in Nigeria's history that should never be forgotten. A time when Nigeria had a Head Of State and the slightest mention of opposition against the government could be fatal, But this book isn't directly about that. It is about what happens to youth and education when the infrastructure of a country collapses.
Nights of the Creaking Bed is full of colourful characters involved in affecting dramas: a girl who is rejected in love because she has three brothers to look after; a middle aged housewife who finds love again but has an impossible decision to make; a young man who can't get the image of his naked, beautiful mother out of his mind; a child so poor he has to hawk onions on Christmas day – and many others. Some, initially full of hope, find their lives blighted by the cruelty of others, or by being in the wrong place at the wrong time, or by just not knowing the "right" people.
Corruption, religious intolerance, gratuitous violence, the irresponsible attitudes of some men to their offspring and the importance of joy are some of the big themes that underlie this memorable collection.
2 cents: It is gritty, it is real, it is honest,  it is a purely captivating book. Most of all, it is about wandering hearts. 
In exile now for more than twenty years, Kenyan novelist, playwright, poet and critic Ngugi wa Thiong'o has become one of the most widely read African writers. Commencing in "our times" and set in the fictional "Free Republic of Aburiria," Wizard of the Crow dramatizes with corrosive humor and keenness of observation a battle for control of the souls of the Aburirian people. Fashioning the stories of the powerful and the ordinary into a dazzling mosaic, this magnificent novel reveals humanity in all its endlessly surprising complexity.
2 cents: Another road-paving classic. The author's bio (above) says it all. 
The narrator, Azaro, is an abiku, a spirit child, who in the Yoruba tradition of Nigeria exists between life and death. The life he foresees for himself and the tale he tells is full of sadness and tragedy, but inexplicably he is born with a smile on his face. Nearly called back to the land of the dead, he is resurrected. But in their efforts to save their child, Azaro's loving parents are made destitute. The tension between the land of the living, with its violence and political struggles, and the temptations of the carefree kingdom of the spirits propels this latter-day Lazarus's story.
2 cents: When you mesh magical realism and mythology with excellent story-telling techniques, you get Ben Okri's, A Famished Road. And this description doesn't even do this modern classic justice. 
If you feel strongly about any books that didn't make the list,
let us know in the comment box below.